4 Clicks To Find Your Google Analytics Tracking Code
In this article, we'll show you how to find your Google Analytics Tracking Code in 4 easy steps / clicks. If you already have your Analytics account setup, then this will be easy.
Login to your Google Analytics account and you'll see the main dashboard. Once you're there, do the following 4 steps…
STEP 1 – Click  Admin (lower left).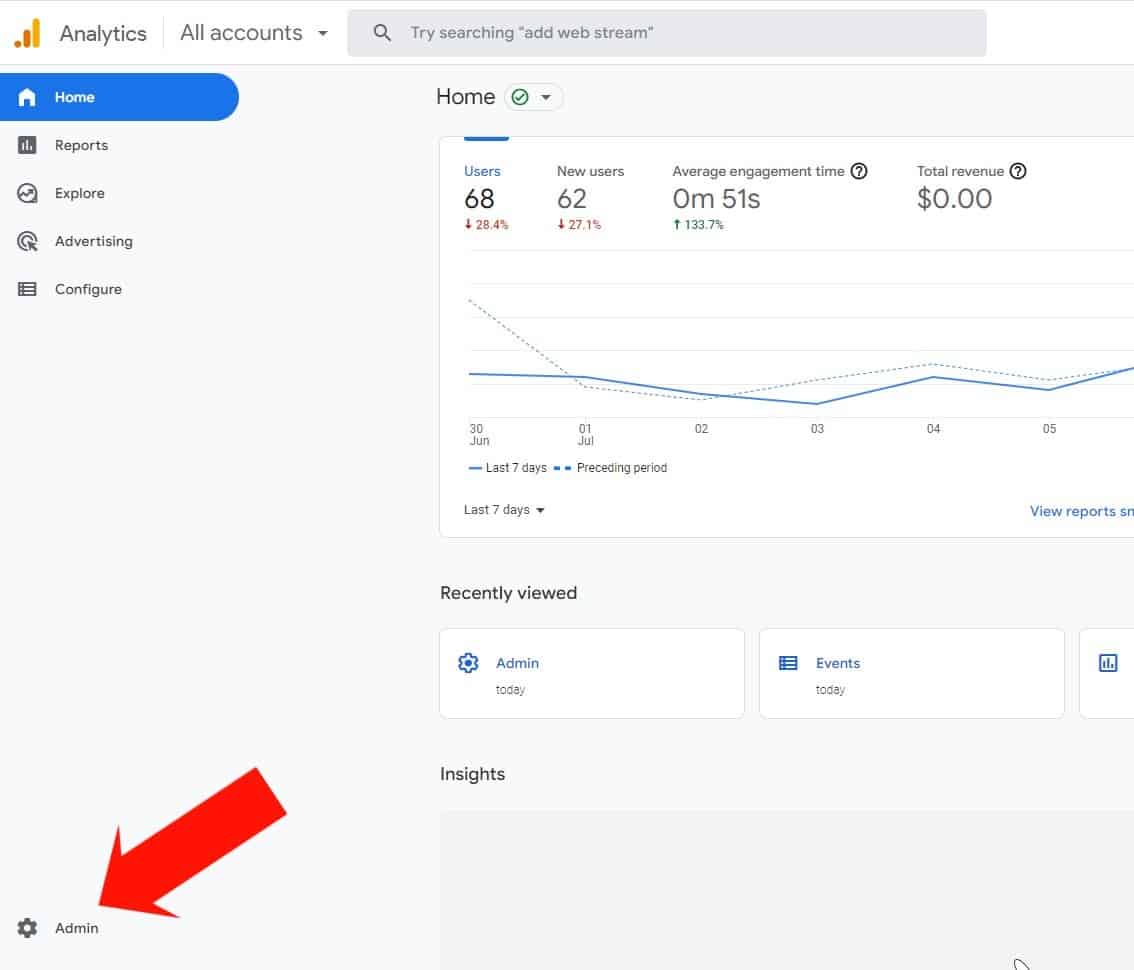 STEP 2 – Click "Data Streams" in the Property column
STEP 3 – In the Data Streams panel, click your website name
STEP 4 – In the Tagging Instructions panel, click "Global site tag (gtag.js)"
And that's it!
The drop down will open and your Google Analytics Tracking Code will appear as seen in the screenshot below.
Copy & paste it
Simply highlight the whole code with your mouse cursor, and then right click it to Copy and Paste the code onto your website.
PRO TIP: Where to copy and paste your Google Analytics gtag.js code
Google recommends that you copy and paste your code into the <head> section of your website's HTML. While this is their official recommendation, did you know that you can copy and paste your Google Analytics tracking code into the your website's HTML Footer?
Our pro tip is to actually paste it into the Footer HTML section. Why? Scripts in the Header will load first – this is where most services want you to paste their scripts because they want their scripts to load first on your website. The problem with loading scripts like this first is simple – they'll load first while the rest of your site will load second. Scripts in the header can slow down your website's overall load time. However, scripts in the Footer will load last. This means your site (e.g. image files, text, design layout, etc) will load first, and your scripts will load after that.
Don't know how to do this stuff? We'll do it for you.
Don't know how to find your site's HTML Head, Body, or Footer? Not comfortable editing HTML or inserting scripts? This is one of the many tasks that we're on-call to do for you. Whether you need us to install your Google Analytics Code, make website design edits, troubleshoot and fix website issues, or simply update your WordPress plugins, our website maintenance plans have you covered. We offer dedicated webmasters so you can talk to the same expert anytime you need something done on your website. And even if you don't need anything, we'll handle your website's daily maintenance and security tasks to keep everything secure and functioning properly.